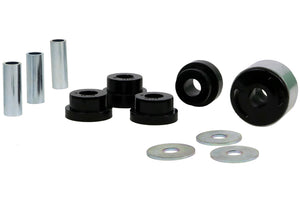 RALLISPEED LTD
WHITELINE - DIFFERENTIAL - MOUNT BUSHING - EVO X
Regular price
$130.09
$0.00
Unit price
per
Tax included.
Shipping
calculated at checkout.
Whiteline's differential bushing solutions ensure pinion angles are maintained while delivering an improved gear shift resulting in reduced initial torque loss and greater power transfer to the wheels.
Features
✓ The latest in material formulation technology boasts resistance to oil, grease, ozone and weathering.
✓ Supplied with extreme pressure molybdenum disulphide (LM) based grease for extended life.
✓ Internal grease reservoirs provide continual self-lubrication for optimum friction management.
✓ Specially bonded design for optimised strength typically required in high load bearing applications.
✓ Designed with the installer in mind by reducing the need of specialised skills, tools and equipment.
✓ Articulation voids deliver necessary suspension articulation and/or compression under loads.
✓ Protective plating on all metal components acts as a hard skin that is much tougher than conventional paint allowing this product to withstand the toughest conditions and resist corrosion for years to come.
✓ This kit is covered by a 3 Year / 60,000kms warranty including parts and labour.
✓ Install guide included providing detailed instructions on how to install your new purchase .
Kit Specifications
Bush
Type
Bush
Qty
OD
A
ID
B
L
C
FL
D
FLOD
E
C/Tube
QTY
C/Tube
Size
Similar
Bushing Size
1
2
45.3 mm
22.2 mm
27.5 mm
10.5 mm
56 mm
3
22.2x14.3x56 / 22.2x16.2x62 mm
click here




















1
2
45.3 mm
22.2 mm
33.3 mm
16.3 mm
56 mm
3
22.2x14.3x56 / 22.2x16.2x62 mm
click here




















16
1
70 mm
22.2 mm
56.7 mm
6.7 mm
65.5 mm
3
22.2x14.3x56 / 22.2x16.2x62 mm
click here
---