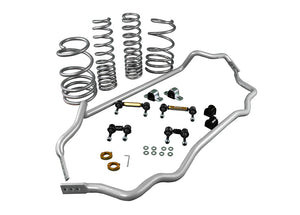 RALLISPEED LTD
WHITELINE - ANTI-ROLL BAR & LOWERING SPRING KIT - EVO X
Regular price
$984.15
$0.00
Unit price
per
Tax included.
Shipping
calculated at checkout.
The ultimate entry level suspension upgrade! Performance, handling and comfort make up the Grip Series Stage 1 kit featuring Whiteline signature front and rear adjustable (where applicable) sway bars, drop links and performance lowering springs.
Contents
Kit Contains;

WSK-MIT002 and BMK010 - essential to 'Activate more grip'
Front and Rear Coil Springs - Lowered
Front and Rear Sway Bar - Vehicle Kit
Whiteline Springs deliver improved vehicle performance whilst maintaining safety and ride quality characteristics. By lowering the vehicles centre of gravity, the unique and progressive rate coil design not only improve performance but enhance overall appearance.
 
Upgrading the sway bars on your vehicle will;
Minimising excess body roll
Dramatically improving handling performance
Tyre life
Steering response
Braking stability and response
No compromise to ride quality, NVH or comfort of the vehicle. We recommend fitting this kit for total grip activation and unrivalled handling and optimal vehicle performance.
Features
✓ The latest in material formulation technology boasts resistance to oil, grease, ozone and weathering.
✓ Protective powder coating acts as a hard skin that is much tougher than conventional paint allowing this product to withstand the toughest conditions and resist corrosion for years to come.
✓ Featuring premium anodized alloy materials, providing a long-lasting protective barrier to corrosion and wear but they look great too.
✓ Protective plating on all metal components acts as a hard skin that is much tougher than conventional paint allowing this product to withstand the toughest conditions and resist corrosion for years to come.
✓ Sway bars are principally designed to reduce body roll or sway while cornering.
✓ Larger diameter sway bars offer a higher torsional resistance which in turn increases overall roll stiffness.
✓ Take control with multi-point adjustment that allow the driver to fine tune vehicle characteristics to suit their driving preference or conditions.
✓ Sway bar mounts utilise the latest in material formulation technology combined with effective designs such as the internal bore knurling and grease retention lips for optimum lubrication & performance.
✓ DIY Lateral locks prevent shifting or sideways movement of the sway bar under lateral (cornering) loads.
✓ Forged ends ensure maximum strength and performance of the sway bar at the sway bar link mounting point.
✓ By eliminating flex and compliance associated with original equipment, these high strength links are engineered to increase sway bar effectiveness and improve overall performance, increased rigidity and responsiveness which can be felt especially during lane changes and initial turn.
✓ Manufactured from high quality alloy and include heavy duty steel ball joints ensuring maximum strength and durability.
<more features>
Kit Specifications
Diameter(mm)
Diameter(in)
Material
Adjustment
Chart
Notes
Frt=27mm Rr=27mm
Frt=1 3/32" Rr=1 3/32"
Solid Spring Steel
Frt=3 point adjustable & Rr=3 point adjustable
BL-281
Sway bar vehcile kit includes front & rear sway bars














Lowering Front (mm)
Spring Rate Front
Lowering Rear (mm)
Spring Rate Rear
35mm
5.0kg/mm (280lb/in)
25mm
4.3kg/mm (241lb/in)










Installation
Install
Guide
Fitment
Time
Degree of
Difficulty
Recommend
Wheel Alignment


9 hrs
Trade Specialist










Packaged Weight and Dimensions
Units
Weight
Length
Width
Height
Fitment Difficulty
cm/kg
26.5kg
127cm
40cm
19cm


in/lbs
58.422lbs
50"
16"
7"
---