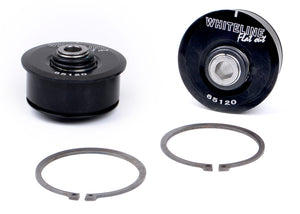 RALLISPEED LTD
WHITELINE - ANTI-LIFT KIT - FRONT CONTROL ARM LOWER INNER REAR BUSHING - EVO X
Regular price
$280.18
$0.00
Unit price
per
Tax included.
Shipping
calculated at checkout.
MOTORSPORT ONLY - The KCA400M Anti-Lift Kit features lightweight aluminium bushings which offer zero compliance and increased static caster. The result is dramatically improved front end grip, corner speed and steering response.
Features
✓ The latest in material formulation technology boasts resistance to oil, grease, ozone and weathering.
✓ Provides a window of adjustment to rectify or optimise a vehicles wheel alignment.
✓ Articulation voids deliver necessary suspension articulation and/or compression under loads.
✓ Engineered to alter/ optimise caster alignment to maximize tyre contact patch during roll, improve turn-in response & increase directional stability.
✓ Featuring anti geometry that works to aid traction by allowing the wheel to track the ground more precisely resulting in superior traction under power including cornering and dramatically reducing understeer and front wheel spin.
✓ Featuring premium anodized alloy materials, providing a long-lasting protective barrier to corrosion and wear but they look great too.
✓ This kit is covered by a 3 Year / 60,000kms warranty including parts and labour.
✓ Install guide included providing detailed instructions on how to install your new purchase .
Kit Specifications
Alignment Type
Adjustment Type
On Car Adjustable
Adjustment Notes
Caster / Anti-Lift
Offset
No
Adds +0.5deg caster + anti-lift










Installation
Install
Guide
Fitment
Time
Degree of
Difficulty
Recommend
Wheel Alignment
Click to Download
2 hrs
Trade Specialist










Packaged Weight and Dimensions
Units
Weight
Length
Width
Height
Fitment Difficulty
cm/kg
1.34kg
39cm
20cm
6cm


in/lbs
2.954lbs
15"
8"
2"
---