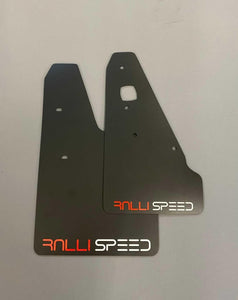 RALLISPEED LTD
RALLISPEED - LANCER RALLIART SPORTBACK MUDFLAPS
Regular price
$96.47
$0.00
Unit price
per
Tax included.
Shipping
calculated at checkout.
Bespoke Custom Design Mudflaps to fit:
Mitsubishi Lancer Ralliart Sportback (2008+) 

*will fit saloon with some modification
Made in the UK by 'The rallyflapZ Team'
Designed for Looks & Protection

Only the Best Materials used

Easy Installation

Long Lasting

Exceptional Flexibility

Impact Resistance


MITSUBISHI LANCER RALLIART SPORTBACK (08+) KIT INCLUDES:

Front Fixing Kit Contents:
2 x Front Mudflaps
4 x Thick Fixing Plugs
2 x Rivet Fixing Plugs
6 x M8 Nylon Form A Washers
2 x Universal Fixing Plugs M8 x 51mm
2 x 4.8 x 25mm Stainless Steel Self Tappers
2 x 15mm Spacers
2 x Rubber Washers

Rear Fixing Kit Contents:
2 x Rear Mudflaps
2 x Rear Stainless Steel (Black Powder Coated) Brackets
6 x 6.3mm Fixing Plugs
4 x Screws & Black Caps

Our rallyflapZ offer outstanding durability when compared to conventional OEM hard plastic or moulded Mudflaps, You can be assured that with our rallyflapZ come peace of mind that they can be exposed to the harshest weather conditions without any danger of corrosion.

MATERIALS

We offer two different Mudflap materials - PVC and KAYLAN PU (Polyurethane):

Our PVC Mud Flap material is 4mm Thick and is perfect for normal, every day road use.
We also offer a KAYLAN PU (Polyurethane) material - which is the same used by World Rally Teams, based on its capability of withstanding repeated flexing.
The mudflaps will be ordered by default in a satin finish but a gloss finish can be requested in the notes section on checkout.

LOGO'S

Our Logo's are a High quality vinyl material which is applied once the Mud Flaps have been cut to shape and sanded.
The Vinyl is long lasting once applied to the mud flap material - however in the event of peeling or damage to them - we offer a life time guarantee on them!
---